Slitting parent rolls with focus on excellence
Converta specialises in the slitting of large rolls of material into various new widths and lengths. The cut rolls meet the highest quality standards. Specifications regarding the coating side, print position, width, flatness and degree of perfection of the edges are all checked thoroughly during the slitting process. Converta is a "BRC Packaging AA" certified company. Rolls and sheets are slit in a hygienic production area, which means they are also suitable for food and medical packaging.
The slitting process
The slitting process works as follows: the material is normally given 24 to 48 hours to reach room temperature before being cut. Modern industrial slitting machines unwind the parent roll and slit the material into narrow or wide strips. The material is then rewound onto the core of your choice to the desired roll length, unwinding direction and winding tension. In addition, we monitor the flatness of the material and how the material behaves during the slitting process. We like to work with you to achieve the right solution for you. Rolls are packaged entirely in consultation with you, and we have options for traceability within our company.
Roll slitting techniques for film and paper
We slit rolls using shears (circular blades). This ensures the best slitting quality, which produces cut sides without fraying. Converta works with shims that can adjust the size in 0.1 millimetre increments. If necessary, we can also utilise razor blades for slitting. This can be an advantage when dealing with extremely thin 12-micron material, for instance.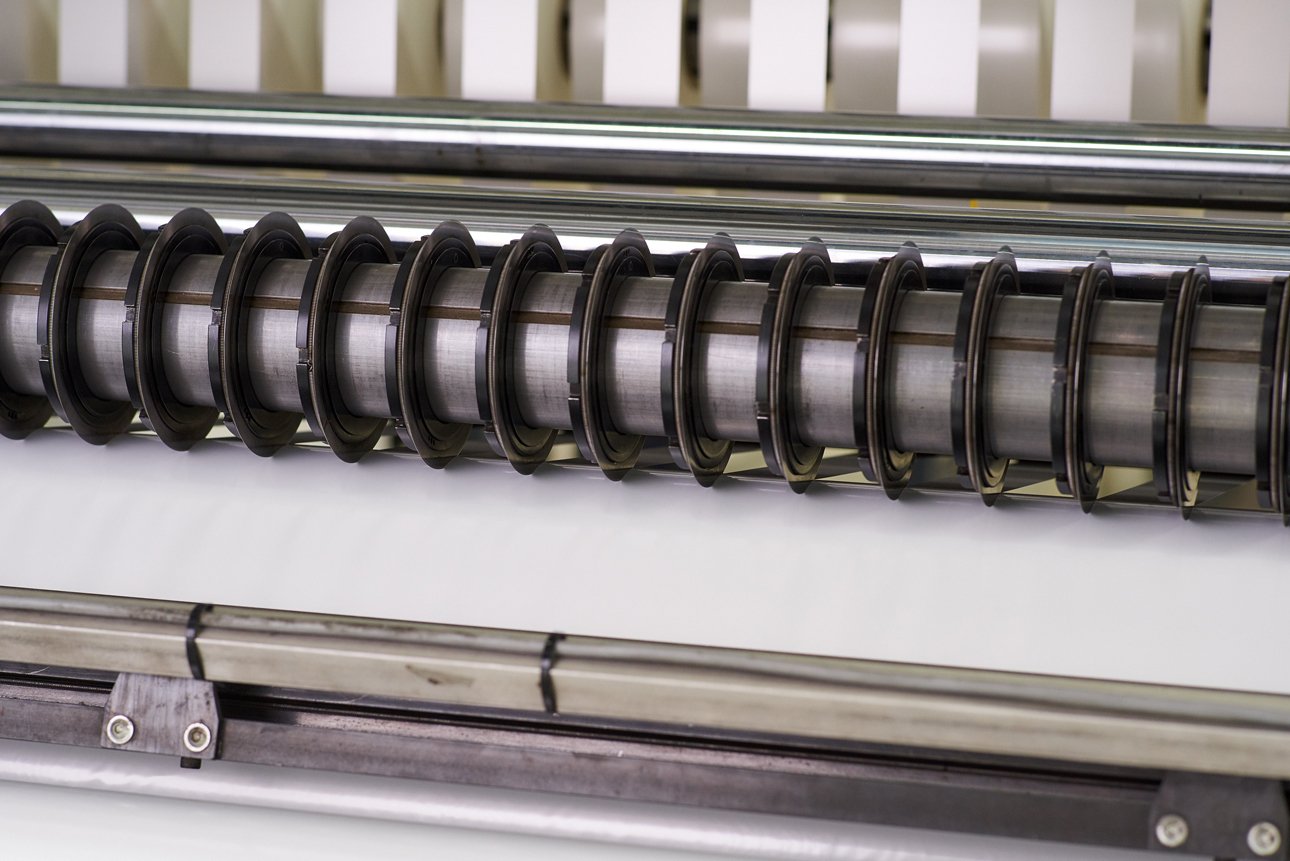 Cutting roll cores
The cores onto which the material is wound have a high crush value, which means they are highly unlikely to dish. We cut the cores to the correct width ourselves – these are available in cardboard and plastic and in various diameters.
Materials on rolls
Converta can slit a wide variety of film and paper on rolls, including polypropylene, polyester, polyethylene, polyvinyl chloride, paper and laminates (or combinations of these) both with and without coatings and prints. If you wish to slit other materials, please feel free to contact us and ask about the possibilities. Our slitting solutions are created in consultation with you.
Slitting and cutting partner in any industry
Converta is active across industry. Parent rolls are made more easily manageable by slitting them into shorter, narrower finished rolls. The slit end products, such as rolls and sheets, are usually semi-finished products that are processed elsewhere in industry. Take, for example, rolls for the printing industry. These rolls are slit to the size required to make them suitable for printing. Less obvious examples – but certainly not unknown –are applications for bread clips, sealing films and material for electrical and telecommunication cables. The sky is the limit.
As slitting partner, Converta works in:
The Packaging Industry

The Food Industry

The Medical Industry

The Printing Industry

The Light and Heavy Industry

Find out more: Converta takes care of the entire process
Find out more: Storage and transport